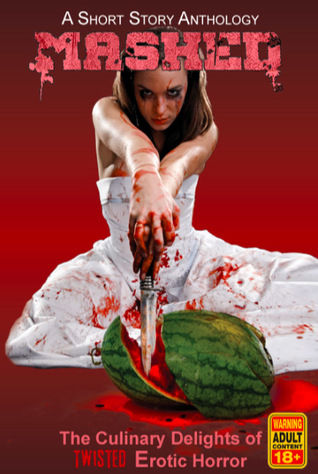 MASHED is an anthology of 17 sensually sinister stories curated from over 200 submissions from around the world.

Each story is a unique blend of horror, humor, food and sex, resulting in tales that will leave you both scared and slightly turned on, while laughing out loud and contemplating whether or not you should have your next meal.

Stories including:

"A Woman's Corn" – By J. Donnait
"Charlie's Chunky Munching Meat" – By Stephen McQuiggan
"Halloween Nosh" – By Brandon Ketchum
"Biscuit: A Love Story" – By Grivante
"Burnt Scrambled Eggs" – By Devon Widmer
"The Disagreeable Dinner" – By Mark Daponte
"Sugar" – By Darla Dimmelle
"The Henry Problem" – By John Grey
"Nibble, Nibble, My Wolf" By – J.L. Boekestein
"The Wrath of the Buttery Bastard-Taters" – By Alex Colvin
"Sauce" – By Steven Carr
"The Care and Feeding of your Personal Demon" – By Maxine Kollar
"P.A.C.D. : The Kitchen of Tomorrow, Today!" – By R.A. Goli
"Arabica" – By Cobalt Jade
"Toilet Manners" – By Eddie Generous
"The Stray" – By Calypso Kane
"The Tall Man in the Hat" – By Nicholas Paschall

Do you like food? Sex? Horror? Humor? Then this book is for you! Guaranteed to leave you scared, aroused and possibly a little hungry.
From the twelfth to the twenty-fourth of June, get inside the minds of twelve of the authors from the anthology. Find out what inspired the stories, what other projects the authors are involved with, and generally get to know the authors better.
Today, get to know more about Alex Colvin and The Wrath of the Buttery Bastard-Taters.


In the age-old first date manner, tell me a bit about yourself.
I am a 26 year-old Canadian who works in real estate, and writes humour stories on the side. I also run my own humour e-zine, 'The Dirty Pool'. I read whatever I can get my hands on, and have been writing since I was little and crafted 'Squirrel Man vs the Terror Turtles, which was pretty bad. I've improved since then.
Who has influenced you most as a writer?
My writing teacher, Nicholas Billon, taught me most of what I know. Hunter S. Thompson was also a huge influence, as are Aaron Sorkin's films.
What are your favourite books and why?
My top two are 'Barney's Version' because it's absolutely hilarious, and 'The Road' by Cormac McCarthy because of how haunting and distressing it is. David Niven's works are also wonderful for their humour, although he has very much faded from memory over the years.
When did you realise you wanted to be a writer?
When I started writing in high school. I wrote a truly abominable parody of the Da Vinci Code called 'The Pythagorean Code' and had a ton of fun. It was juvenile and abysmal, but it was the spark that started the fire for wanting to write funny stories.
Do you have any interesting writing quirks?
Writers are a quirky bunch, so I don't know if I stand out. But I write in little scraps of a story and then have to knit the scraps together into a coherent story. Very little of it comes naturally or in order, I write like I'm trying to solve a puzzle.
How did you become interested in writing this particular genre?
Humorous erotic horror? Because I didn't know it could be done. It was a challenge, and I had to try it once I knew there was a call for it, it was just too much fun to pass up.
What was the inspiration behind your MASHED story?
Well, in suburban Ontario young children are fed instant mashed potatoes by their overwrought hardworking parents who need to cut corners somewhere, bless their hearts, but insta-spuds are dreadful and a horror to behold. I moved to the east coast for a few months where people had never heard of instant mashed potatoes, and telling stories of my instant-mashed childhood rekindled my hatred for them, so I made them the villain in my story.
With over two hundred submissions, what was your reaction upon finding out your story had made the cut?
I'd had an inkling I might make it. After my first submission, the editor wrote me and said the story was interesting, but he encouraged me to rewrite it and fix it up if I'd like to resubmit. So I did, and I got in! I was very grateful for his thoughtfulness and patience, and I was just thrilled to bits to get a print publication. This is my first one!
Each story is a mix of horror, humour, food, and sex; what kind of reaction should a reader expect to have upon finishing your story – will they be more turned on or terrified?
Humour is definitely my focus, with horror a close second and sex a distant third. I never felt comfortable with the sex scene, and focused on making instant mashed potatoes as funny and terrifying as could be. Hopefully the reader laughs at some point in my story, that's all I could ask for!
Do you have another writing project in mind or in the making? If so, can you tell us a little about it?
My dream is to publish a collection of short stories somewhere, but that is only in the query and planning phase. And I have a handful of stories I'm chipping away at, one about a geeky samurai who takes on the mafia, one about aliens who study Canadian Literature, the list goes on!
Excluding your own, which of the MASHED stories is your favourite?
Maxine Collar's "How to Feed and Care for your personal demons" spun a rich world and was surprisingly charming for a story about monsters from the depths of Hell. So my extra round of applause goes to her.


a Rafflecopter giveaway