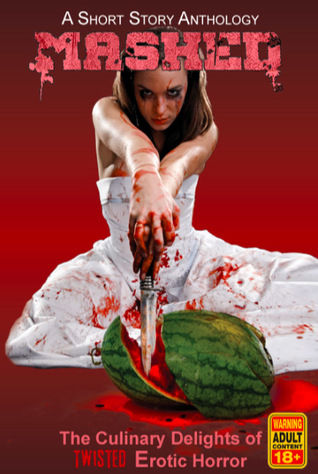 MASHED is an anthology of 17 sensually sinister stories curated from over 200 submissions from around the world.

Each story is a unique blend of horror, humor, food and sex, resulting in tales that will leave you both scared and slightly turned on, while laughing out loud and contemplating whether or not you should have your next meal.

Stories including:

"A Woman's Corn" – By J. Donnait
"Charlie's Chunky Munching Meat" – By Stephen McQuiggan
"Halloween Nosh" – By Brandon Ketchum
"Biscuit: A Love Story" – By Grivante
"Burnt Scrambled Eggs" – By Devon Widmer
"The Disagreeable Dinner" – By Mark Daponte
"Sugar" – By Darla Dimmelle
"The Henry Problem" – By John Grey
"Nibble, Nibble, My Wolf" By – J.L. Boekestein
"The Wrath of the Buttery Bastard-Taters" – By Alex Colvin
"Sauce" – By Steven Carr
"The Care and Feeding of your Personal Demon" – By Maxine Kollar
"P.A.C.D. : The Kitchen of Tomorrow, Today!" – By R.A. Goli
"Arabica" – By Cobalt Jade
"Toilet Manners" – By Eddie Generous
"The Stray" – By Calypso Kane
"The Tall Man in the Hat" – By Nicholas Paschall

Do you like food? Sex? Horror? Humor? Then this book is for you! Guaranteed to leave you scared, aroused and possibly a little hungry.
From the twelfth to the twenty-fourth of June, get inside the minds of twelve of the authors from the anthology. Find out what inspired the stories, what other projects the authors are involved with, and generally get to know the authors better.
Today, get to know more about R.A. Goli and P.A.C.D.: The Kitchen of Tomorrow, Today!
In the age-old first date manner, tell me a bit about yourself.
I'm an Australian author. I write mostly horror but also fantasy and I dabble in erotica, though I seem to be better at erotic horror. I attempt to write in other genres, but they'd probably just fall under the umbrella of speculative. I enjoy long walks at the cemetery or the bush, the immersive world of MMO's, and hanging out with my fur-babies and husband.
Who has influenced you most as a writer?
I read a lot of Stephen King and Richard Laymon as a teenager, and started reading fantasy as I got older.
With fantasy, I usually prefer the darker kind, more violence, more sex, yes please. Grimdark stuff like Joe Abercrombie's novels. I'm not sure who has influenced me the most, but I think just about every book or story I've read has shaped the way I write. Even the crap ones, they become the cautionary tales of how not to write.
What are your favourite books and why?
Favorite books include The First Law trilogy by Joe Abercrombie. Realistic fantasy, amazing characters, the magic is believable, great story. Having said that, I've also enjoyed Anne Bishop and Trudi Canavan novels, both of which are full of sorcery and witchy-type magic. The first three books of George R.R. Martin's series 'A Song of Fire and Ice' are amazing. Fast paced, lots of action, cliff-hangers and surprises. I didn't enjoy the rest of the series as much, so I can't say it's a favorite, but those three are some of the best books I've read. I like Stephen King's earlier novels, like Cujo, Pet Sematery and Thinner. Creepy and clever. I can't pick a favorite, it changes based on my mood. William Peter Blatty's The Exorcist is another book I've read several times. Same reasons, the characters, the creepyness. It's a classic. I also like anthologies.
When did you realise you wanted to be a writer?
I may have thought about it before, but the earliest I can recall is when I was twelve. I was required to do an assignment on what I wanted to be when I grew up. I struggled with my two dreams, being a veterinary nurse or an author. I've been a vet nurse (as well as many other things), but my need to write never left, and I've finally come back to it.
Do you have any interesting writing quirks?
I don't think so. If I'm not actually typing, I'm fidgeting. Clicking the pen or twirling my lip balm. I've finally bought a fidget cube and spinner. Sometimes I stare blankly at the wall or out the window, but this means I am concentrating very hard.
How did you become interested in writing this particular genre?
I'd seen a submission call for erotic horror and thought it sounded fun, so I wrote 'Flirting With The Dead', and it was accepted. I suppose that's where it started. I enjoyed it so much, I had to do it again. I'm sure there'll be more erotic horror in my future.
What was the inspiration behind your MASHED story?
I was visiting friends and asked for ideas for an erotic horror with a culinary theme, and they actually suggested the kitchen robot. I thought it was brilliant, and the story started forming in my head – blood, knives and severed limbs - and I was excited.
With over two hundred submissions, what was your reaction upon finding out your story had made the cut?
I was so excited. I'd been having an afternoon nap, because the staring at the wall can really take it out of you, when I received the acceptance email. After reading it, I ran into the loungeroom to tell my husband, and he gave me a high five. Which was weird because we're not high five sort of people.
Each story is a mix of horror, humour, food, and sex; what kind of reaction should a reader expect to have upon finishing your story – will they be more turned on or terrified?
They might be turned on for a brief moment, but it gets nasty pretty quickly. I think they'd find it funny and a little frightening, and perhaps be reminded of the importance of maintaining sexual intimacy in a relationship.
Do you have another writing project in mind or in the making? If so, can you tell us a little about it?
I'm working on several short stories at the moment, most of them horror. I'm also writing a fairy tale/fantasy style novella about a dwarf. I'll post details about it on my website as it gets closer to publication date.


Excluding your own, which of the MASHED stories is your favourite?
There are a lot of great stories in there, and I have an easy top three, but you asked for one so I'll give you one. My favorite would have to be 'Sauce' by Steven Carr. It was hilarious and quite weird.
a Rafflecopter giveaway