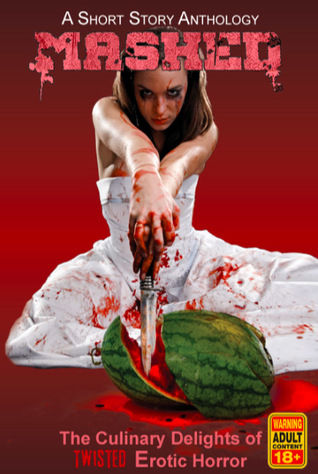 MASHED is an anthology of 17 sensually sinister stories curated from over 200 submissions from around the world.

Each story is a unique blend of horror, humor, food and sex, resulting in tales that will leave you both scared and slightly turned on, while laughing out loud and contemplating whether or not you should have your next meal.

Stories including:

"A Woman's Corn" – By J. Donnait
"Charlie's Chunky Munching Meat" – By Stephen McQuiggan
"Halloween Nosh" – By Brandon Ketchum
"Biscuit: A Love Story" – By Grivante
"Burnt Scrambled Eggs" – By Devon Widmer
"The Disagreeable Dinner" – By Mark Daponte
"Sugar" – By Darla Dimmelle
"The Henry Problem" – By John Grey
"Nibble, Nibble, My Wolf" By – J.L. Boekestein
"The Wrath of the Buttery Bastard-Taters" – By Alex Colvin
"Sauce" – By Steven Carr
"The Care and Feeding of your Personal Demon" – By Maxine Kollar
"P.A.C.D. : The Kitchen of Tomorrow, Today!" – By R.A. Goli
"Arabica" – By Cobalt Jade
"Toilet Manners" – By Eddie Generous
"The Stray" – By Calypso Kane
"The Tall Man in the Hat" – By Nicholas Paschall

Do you like food? Sex? Horror? Humor? Then this book is for you! Guaranteed to leave you scared, aroused and possibly a little hungry.
From the twelfth to the twenty-fourth of June, get inside the minds of twelve of the authors from the anthology. Find out what inspired the stories, what other projects the authors are involved with, and generally get to know the authors better.
Today, get to know more about Mark Daponte and The Disagreeable Dinner.
In the age-old first date manner, tell me a bit about yourself.
I currently work as a Choir Director, specializing in successfully teaching the voices in my head to sing on key.
Who has influenced you most as a writer?
The usual cast of writers and a few token surprises that writers always note as influences to make themselves look far smarter and cooler than they really are; like:
Twain, Jim Carroll, John Williams, John Fante (a real fave), Bob Dylan, John Cheever, Dr. Seuss, Johnny Thunders, Ral Donner, Hasil Adkins and a slew of others.
What are your favourite books and why?
"Stoner" (by John Williams) is a well-crafted read that is so depressing, I temporarily forgot about killing myself and want to get in the book and do the same to the protagonist—who would thank me for doing the deadly deed to him.
"The Basketball Diaries" is always a great book to snuggle up to a loved one while you shoot heroin on a winter night in front of an open fire under a spoon.
When did you realise you wanted to be a writer?
When I found I could make my kindergarten classmates laugh at my "jokes" and stories instead of focusing on my urine soaked pants.
Do you have any interesting writing quirks?
Not many. I just jot stuff down for my own self-amusement in my free time and try to combine a lot of stuff to (one day) make a cogent story.
How did you become interested in writing this particular genre?
This particular short story was originally an one-act comedy that played in a theatre in L.A. I saw MASHED's ad and I said to myself, "Hmmmm, myself….maybe I can mash the theatrical epic up and turn it into a short story for "Mashed'."
What was the inspiration behind your MASHED story?
I thank God (although millions don't) for that Olivia Newton John song about hearing your body talk ("Let's Get Physical)." I took that germ of a song and made it into a germ of an idea: placing a talkative, evil ghost in an arse; who became my story's antagonist.
With over two hundred submissions, what was your reaction upon finding out your story had made the cut?
Very pleasantly surprised--though the news did interrupt my nap at work.
Each story is a mix of horror, humour, food, and sex; what kind of reaction should a reader expect to have upon finishing your story – will they be more turned on or terrified?
Amused….hopefully.
Do you have another writing project in mind or in the making? If so, can you tell us a little about it?
I'm doing a screenplay for a self-professed producer called, "The Campsite Killer" which is about five college grads celebrating their friendship and graduation by going camping and partying in woods where they meet up with a maniacal "Native American" who believes that they are really there to take his "land." That is, the five find out too late that the killer is in reality a crazed white man who believes he's a knife wielding Indian and on the warpath to kill those "wish to steal his sacred land," even though one of the grads turns out to be the "Indian's" own brother who hasn't seen his older brother until...NOW.
Soon to be a minor motion picture!!!


a Rafflecopter giveaway