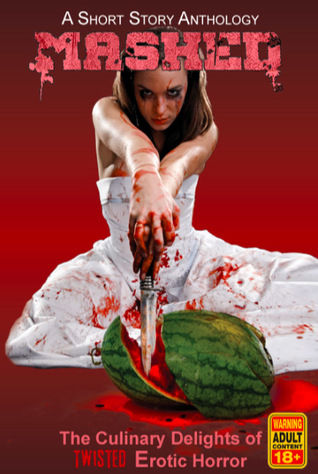 MASHED is an anthology of 17 sensually sinister stories curated from over 200 submissions from around the world.

Each story is a unique blend of horror, humor, food and sex, resulting in tales that will leave you both scared and slightly turned on, while laughing out loud and contemplating whether or not you should have your next meal.

Stories including:

"A Woman's Corn" – By J. Donnait
"Charlie's Chunky Munching Meat" – By Stephen McQuiggan
"Halloween Nosh" – By Brandon Ketchum
"Biscuit: A Love Story" – By Grivante
"Burnt Scrambled Eggs" – By Devon Widmer
"The Disagreeable Dinner" – By Mark Daponte
"Sugar" – By Darla Dimmelle
"The Henry Problem" – By John Grey
"Nibble, Nibble, My Wolf" By – J.L. Boekestein
"The Wrath of the Buttery Bastard-Taters" – By Alex Colvin
"Sauce" – By Steven Carr
"The Care and Feeding of your Personal Demon" – By Maxine Kollar
"P.A.C.D. : The Kitchen of Tomorrow, Today!" – By R.A. Goli
"Arabica" – By Cobalt Jade
"Toilet Manners" – By Eddie Generous
"The Stray" – By Calypso Kane
"The Tall Man in the Hat" – By Nicholas Paschall

Do you like food? Sex? Horror? Humor? Then this book is for you! Guaranteed to leave you scared, aroused and possibly a little hungry.
From the twelfth to the twenty-fourth of June, get inside the minds of twelve of the authors from the anthology. Find out what inspired the stories, what other projects the authors are involved with, and generally get to know the authors better.
Today, get to know more about Grivante and Biscuit: A Love Story.
In the age-old first date manner, tell me a bit about yourself.
I am a writer of dark and bizarre fiction who writes from one of the beautifulest parts of the planet. A little cabin in the woods of North Idaho. When not writing I enjoy adventuring around the countryside with my wife and our little 6-pound Pekingese named Lola.
Who has influenced you most as a writer?
I've read so much over the years, it's hard to name a particular influence, but probably one of the first that got me interested in writing weird adult fiction, was the sci-fi author Phillip Jose Farmer. Later, Stephen King and the way he connected so many of his stories with The Dark Tower series and in more recent years by the work of Terry Pratchett via his Discworld series. I love how he created this massive, improbable world, with so many characters that were interconnected in small and big ways. I love the grandness of worlds like that.
What are your favourite books and why?
The Shannara Series by Terry Brooks, it was the first fantasy series I fell in love with.
The Dark Tower Series by Stephen King. It's just an epic, I'll read and re-read throughout my life.
The Mission Earth Series by L. Ron Hubbard. The series was the perfect mix of fun sci-fi and crazy adult seriousness for me as a teenager.
When did you realise you wanted to be a writer?
I loved reading at an early age and In the fourth grade, I wrote Friday the 13th fan-fiction for my friends and classmates. Seeing how my words could impact people excited me. I wanted to do more of that, only I wanted to create my own worlds to bring people into to play with.
Do you have any interesting writing quirks?
Not sure if it's a quirk, but I write long hand first. Scribbling notes in notebooks whenever ideas strike me. Sometimes chaotically out of order, resulting in a helluva a headache when it comes time to piece it altogether.
How did you become interested in writing this particular genre?
Both the period in grade school described above and the particular books I like reading.
What was the inspiration behind your MASHED story?
Biscuit: A Love Story was born out of a desire to write about something that was wholesome and then twist it in a dark and bizarre way. It was a lot of fun to write. I had no idea where it was going at first and it just kept getting weirder and funnier. I loved it.
With over two hundred submissions, what was your reaction upon finding out your story had made the cut?
Well, as the publisher, I knew my story would be included. Sort of. After looking for places to submit Biscuit, I found the world was lacking in publications that wanted this type of story, but I knew there had to be others out there that would get it and like it. When we put out the open call for submissions, we didn't know what we would get back. By the end of the first week we had over 30 submissions.
I was a little freaked out because we had a full 3 months ahead of us. Submissions continued to come in, sometimes in a blast and sometimes in a trickle. It was hard to keep up, but near the end, I put Biscuit into the submission stack and re-read it from the eyes of the editor and asked the same questions I had been asking of the other stories we had been reading. Did it fit the theme? The Culinary Delights of Twisted Erotic Horror? Did it have food? Yep. Did it have Sex? Unfortunately, yes. Did it have horror? Yes. Did it make me laugh and did it make me want to keep reading? Yes and Yes.
Each story is a mix of horror, humour, food, and sex; what kind of reaction should a reader expect to have upon finishing your story – will they be more turned on or terrified?
I think in the end, Biscuit will leave people more terrified then turned on. But they'll experience all of the themes as they read it. Starting hungry, then a little(or a lot) grossed out, then laughing, before turning to the final terrible outcome.
Do you have another writing project in mind or in the making? If so, can you tell us a little about it?
I have my zombie series, The Zee Brothers: Zombie Exterminators. The story of two brothers in the zombie extermination business with one job, keep the zombie apocalypse at bay. It's a mix of horror and humor in a world where zombies are more of a nuisance, but if not handled things could get out of control. I've got 2 out of 4 books done with the final two in process as well as a handful of short stories in the universe as well.
After that I have a dystopian series about a Han Solo/Indiana Jones type character tentatively called The Negotiator.
Excluding your own, which of the MASHED stories is your favourite?
For me, I love them all, or I wouldn't have included them in MASHED. In fact, originally, we had planned on no more then 12-14 stories in the anthology, but when it came for final cuts, there were a couple I just couldn't let go of and we ended up with 17.
One of the things I loved most about all of the stories we included was that there is a mix of brand new and established authors. Each brought something unique to the anthology.
a Rafflecopter giveaway