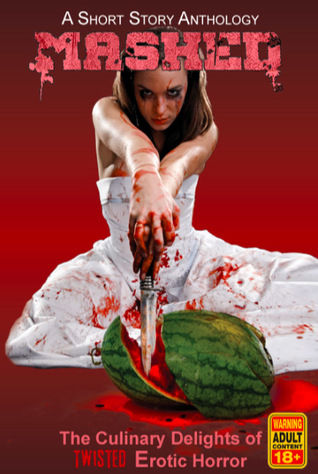 MASHED is an anthology of 17 sensually sinister stories curated from over 200 submissions from around the world.

Each story is a unique blend of horror, humor, food and sex, resulting in tales that will leave you both scared and slightly turned on, while laughing out loud and contemplating whether or not you should have your next meal.

Stories including:

"A Woman's Corn" – By J. Donnait
"Charlie's Chunky Munching Meat" – By Stephen McQuiggan
"Halloween Nosh" – By Brandon Ketchum
"Biscuit: A Love Story" – By Grivante
"Burnt Scrambled Eggs" – By Devon Widmer
"The Disagreeable Dinner" – By Mark Daponte
"Sugar" – By Darla Dimmelle
"The Henry Problem" – By John Grey
"Nibble, Nibble, My Wolf" By – J.L. Boekestein
"The Wrath of the Buttery Bastard-Taters" – By Alex Colvin
"Sauce" – By Steven Carr
"The Care and Feeding of your Personal Demon" – By Maxine Kollar
"P.A.C.D. : The Kitchen of Tomorrow, Today!" – By R.A. Goli
"Arabica" – By Cobalt Jade
"Toilet Manners" – By Eddie Generous
"The Stray" – By Calypso Kane
"The Tall Man in the Hat" – By Nicholas Paschall

Do you like food? Sex? Horror? Humor? Then this book is for you! Guaranteed to leave you scared, aroused and possibly a little hungry.
From the twelfth to the twenty-fourth of June, get inside the minds of twelve of the authors from the anthology. Find out what inspired the stories, what other projects the authors are involved with, and generally get to know the authors better.
Today, get to know more about Steven Carr and Sauce.
In the age-old first date manner, tell me a bit about yourself.
I was born and raised in Cincinnati, Ohio. I spent three years in the U.S. Army and four years in the U.S. Navy. I have a B.A. in English/theater. I have traveled extensively but now live in Richmond, Virginia. Besides writing, my other interests are art history, music, photography, movies, film history and animals.
Who has influenced you most as a writer?
W. Somerset Maugham. My writing style is nothing like his, but I discovered his works and his life story when I was eighteen and the art of story telling became alive for me in a different and more exciting way.
When did you realise you wanted to be a writer?
In eleventh grade in high school. Mr. Katz, my English teacher took special interest in what she saw as my abilities in writing and went out of her way to make sure I knew what good writing was all about. It turned me to a life of high school crime. I wrote stories for a lot of other students to hand in as being written by them for $5.00 a piece to be paid on condition they got at least a B. I always got my $5.00.
Do you have any interesting writing quirks?
Not really. I sit down to the computer and type and that's about it. Pretty boring.
How did you become interested in writing this particular genre?
I write in a few different genres, erotica is just one of them. When I was sixteen I found a "smut" book by older brother had been hiding and I read it and thought two things: I can't wait to have sex, and I can write stuff like that.
What was the inspiration behind your MASHED story?
I was struck by the comic possibilities inherent in combining sex, food and horror so I infused my story with an underlying comic tone.
With over two hundred submissions, what was your reaction upon finding out your story had made the cut?
I felt bad for all those who didn't make it. Acceptance are always fun, but getting rejected sucks.
Each story is a mixture of horror, humor, food and sex; what kind of reaction should a reader expect to have upon finishing your story – will they be more turned on or terrified?
Of those two choices, probably turned on, but if the reader gets the humor I was going for, hopefully they'll have a good laugh.
Do you have another writing project in mind or in the making? If so, can you tell us a little about it?
I don't have a specific project because I write and submit between 15-20 short stories a month in a few different genres. One editor calls me "frighteningly prolific" but I prefer to think of myself as manic.
Excluding your own, which of the MASHED stories is your favorite?
P.A.C.D.: The Kitchen of Tomorrow, Today! By R.A. Goli. This is a really intelligent, bold and unique piece of writing as well as being erotic and horrific. It has stuck with me from the moment I read it.
a Rafflecopter giveaway