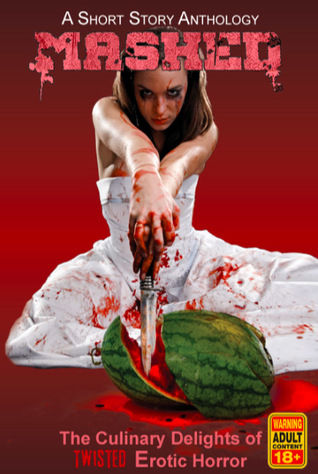 MASHED is an anthology of 17 sensually sinister stories curated from over 200 submissions from around the world.

Each story is a unique blend of horror, humor, food and sex, resulting in tales that will leave you both scared and slightly turned on, while laughing out loud and contemplating whether or not you should have your next meal.

Stories including:

"A Woman's Corn" – By J. Donnait
"Charlie's Chunky Munching Meat" – By Stephen McQuiggan
"Halloween Nosh" – By Brandon Ketchum
"Biscuit: A Love Story" – By Grivante
"Burnt Scrambled Eggs" – By Devon Widmer
"The Disagreeable Dinner" – By Mark Daponte
"Sugar" – By Darla Dimmelle
"The Henry Problem" – By John Grey
"Nibble, Nibble, My Wolf" By – J.L. Boekestein
"The Wrath of the Buttery Bastard-Taters" – By Alex Colvin
"Sauce" – By Steven Carr
"The Care and Feeding of your Personal Demon" – By Maxine Kollar
"P.A.C.D. : The Kitchen of Tomorrow, Today!" – By R.A. Goli
"Arabica" – By Cobalt Jade
"Toilet Manners" – By Eddie Generous
"The Stray" – By Calypso Kane
"The Tall Man in the Hat" – By Nicholas Paschall

Do you like food? Sex? Horror? Humor? Then this book is for you! Guaranteed to leave you scared, aroused and possibly a little hungry.
From the twelfth to the twenty-fourth of June, get inside the minds of twelve of the authors from the anthology. Find out what inspired the stories, what other projects the authors are involved with, and generally get to know the authors better.
Today, get to know more about Brandon Ketchum and Halloween Nosh.
In the age-old first date manner, tell me a bit about yourself.
I'm a writer living and working out of the wonderful city of Pittsburgh, PA. I love the weird, and speculative fiction plays perfectly to my tastes, both in reading and writing. When working on novels, I mostly stick to fantasy of some sort, but do love writing soft sci-fi, horror, and mashup short stories.
Who has influenced you most as a writer?
I came into writing on the fantasy end of the spec-fic spectrum, idolizing Robert E. Howard and Fritz Leiber. Philip K. Dick, Robert Heinlein, Joe Abecrombie, Glen Cook, and many others have helped shape my career.
What are your favourite books and why?
Being heavily into grimdark, I first encountered the sub-genre not through Game of Thrones, but with Glen Cook's Black Company. What struck me with these books was how perfectly he captured small-unit military culture. It's the same whether you're in the U.S. Army, which I was, or in some fantasy grimdark company with Croaker.
When did you realise you wanted to be a writer?
In high school, when a teacher marked a story "Worthy of publication" rather than giving me a letter grade.
Do you have any interesting writing quirks?
Due to back, knee, and shoulder issues, I mostly write in my recliner at home.
How did you become interested in writing this particular genre?
Simply because of the fiction I read and loved as a kid. They say to write what you love, and that's what I do.
What was the inspiration behind your MASHED story?
My local writing group, Write or Die (WorD), was having a Halloween reading at Rickert & Beagle Books in Dormont. The story began as an image in my mind that quickly led to a joke--a still-beating human heart on the table, and a vampire saying: "She gets me!" From there, I wanted to turn the vampire trope on its head, seeking a new angle to approach the tired tropes from. A vampire who hates Halloween? A vampire with the imagination to pretend it's Valentine's Day? Everything fell into place around it.
With over two hundred submissions, what was your reaction upon finding out your story had made the cut?
Relief. I had written an erotic horror story with food as an important element, and I thought it was perfect for MASHED. I would have been kind of crushed had it not been accepted.
Each story is a mix of horror, humour, food, and sex; what kind of reaction should a reader expect to have upon finishing your story – will they be more turned on or terrified?
Turned on and grinning evilly about it.
Do you have another writing project in mind or in the making? If so, can you tell us a little about it?
I'm marketing a lot of short stories right now, but the major project I'm finishing up is a grimdark novel, a standalone that I want to turn into a series.
Excluding your own, which of the MASHED stories is your favourite?
Burnt Scrambled Eggs by Devon Widmer
a Rafflecopter giveaway