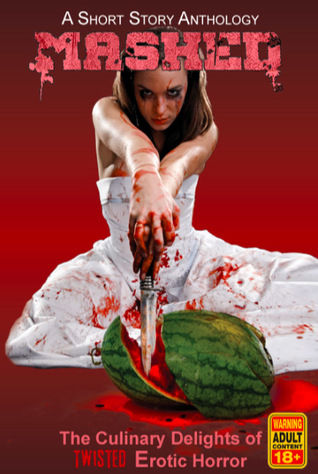 MASHED is an anthology of 17 sensually sinister stories curated from over 200 submissions from around the world.

Each story is a unique blend of horror, humor, food and sex, resulting in tales that will leave you both scared and slightly turned on, while laughing out loud and contemplating whether or not you should have your next meal.

Stories including:

"A Woman's Corn" – By J. Donnait
"Charlie's Chunky Munching Meat" – By Stephen McQuiggan
"Halloween Nosh" – By Brandon Ketchum
"Biscuit: A Love Story" – By Grivante
"Burnt Scrambled Eggs" – By Devon Widmer
"The Disagreeable Dinner" – By Mark Daponte
"Sugar" – By Darla Dimmelle
"The Henry Problem" – By John Grey
"Nibble, Nibble, My Wolf" By – J.L. Boekestein
"The Wrath of the Buttery Bastard-Taters" – By Alex Colvin
"Sauce" – By Steven Carr
"The Care and Feeding of your Personal Demon" – By Maxine Kollar
"P.A.C.D. : The Kitchen of Tomorrow, Today!" – By R.A. Goli
"Arabica" – By Cobalt Jade
"Toilet Manners" – By Eddie Generous
"The Stray" – By Calypso Kane
"The Tall Man in the Hat" – By Nicholas Paschall

Do you like food? Sex? Horror? Humor? Then this book is for you! Guaranteed to leave you scared, aroused and possibly a little hungry.
From the twelfth to the twenty-fourth of June, get inside the minds of twelve of the authors from the anthology. Find out what inspired the stories, what other projects the authors are involved with, and generally get to know the authors better.
Today, get to know more about Eddie Generous and Toilet Manners.
In the age-old first date manner, tell me a bit about yourself.
I'm Canadian. I read a lot, most of which is horror. I run a small horror outfit aptly named Unnerving. I eat meat. I am cat people. I don't really like leaving the house.
Who has influenced you most as a writer?
Canned answer, but true: Stephen King. Though a lifelong horror movie fan (a picky one), I'd been writing for a while before I ever read any true horror books. Most of what I wrote was bleak, dark, and hapless. I started reading Stephen King and that led to Dean Koontz and Clive Barker and the list goes on. Horror permits the bleak, dark, and hapless in a way that's entertaining and rewarding rather than just depressing.
What are your favourite books and why?
As someone who has taken on the task of reviewing books, I'd say now that my favourite books are the ones I choose rather than the ones burying me. Beyond that, I like character-based tales that deal with a strong sense of logic prior to delving into the unbelievable.
When did you realise you wanted to be a writer?
I've always liked telling stories. In the eighth grade, I wrote and illustrated an entire book about one of my classmates in various professions/stages/animal types. In the ninth grade, I was suspended for writing a story involving another classmate and his lusty ways. In the tenth grade, I had a teacher tell me I'd write a great book from prison someday. I went to college and earned a diploma in print-journalism.
I guess I actually realised what these tendencies meant years after college when I was floating around feeling out of place and hating all the joe-jobs I was attempting to acquire/keep at the time. So I guess, at about 26. I'm 32.
Do you have any interesting writing quirks?
None. Nothing about writing is all that interesting. Shut the door and work. I have a poster I made on the wall above my computer that reminds me that people are worker harder than I am and that I need to work harder, though that's hardly a quirk.
How did you become interested in writing this particular genre?
As for erotic food horror, if that is what you mean by particular genre, I'm not specifically interested in it. Writing shorts in utter oddity are a wonderful gateway to speaking on other subjects that need a side door.
What was the inspiration behind your MASHED story?
There is always some real life involved in everything, though in this one there is much less of that. Also, the idea of glory holes baffle me, I mean, the mouth on the far-side of the wall might be anybody/anything.
With over two hundred submissions, what was your reaction upon finding out your story had made the cut?
I was happy, but also relieved. Here was a story I wrote that was not going to fit anywhere, not until the call for Mashed landed on one of the usual submission directory pages. If it didn't go, it was bound to be something bothering me, as I like it, and for it to be homeless would be sad.
Each story is a mix of horror, humour, food, and sex; what kind of reaction should a reader expect to have upon finishing your story – will they be more turned on or terrified?
Depends. It involves some anonymous bathroom lovin' as a lead-in for something disgusting, finishing off with a punchline, so maybe a bit of the three, depending on tastes.
Do you have another writing project in mind or in the making? If so, can you tell us a little about it?
I am forever writing and stacking things away as for personal stuff. This year I've been doing a lot more rewriting than writing (for 2017 I haven't even hit 100K words written yet, which is a little alarming), but I'm always working on the next issue of Unnerving Magazine and the books I edit/design/peddle on the Unnerving publication side.


a Rafflecopter giveaway