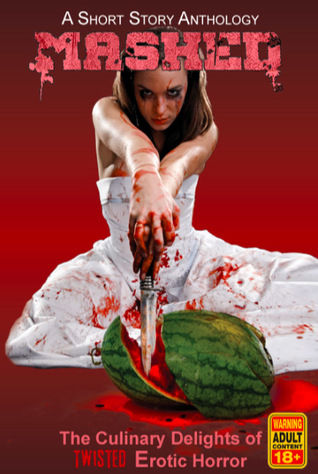 MASHED is an anthology of 17 sensually sinister stories curated from over 200 submissions from around the world.

Each story is a unique blend of horror, humor, food and sex, resulting in tales that will leave you both scared and slightly turned on, while laughing out loud and contemplating whether or not you should have your next meal.

Stories including:

"A Woman's Corn" – By J. Donnait
"Charlie's Chunky Munching Meat" – By Stephen McQuiggan
"Halloween Nosh" – By Brandon Ketchum
"Biscuit: A Love Story" – By Grivante
"Burnt Scrambled Eggs" – By Devon Widmer
"The Disagreeable Dinner" – By Mark Daponte
"Sugar" – By Darla Dimmelle
"The Henry Problem" – By John Grey
"Nibble, Nibble, My Wolf" By – J.L. Boekestein
"The Wrath of the Buttery Bastard-Taters" – By Alex Colvin
"Sauce" – By Steven Carr
"The Care and Feeding of your Personal Demon" – By Maxine Kollar
"P.A.C.D. : The Kitchen of Tomorrow, Today!" – By R.A. Goli
"Arabica" – By Cobalt Jade
"Toilet Manners" – By Eddie Generous
"The Stray" – By Calypso Kane
"The Tall Man in the Hat" – By Nicholas Paschall

Do you like food? Sex? Horror? Humor? Then this book is for you! Guaranteed to leave you scared, aroused and possibly a little hungry.
From the twelfth to the twenty-fourth of June, get inside the minds of twelve of the authors from the anthology. Find out what inspired the stories, what other projects the authors are involved with, and generally get to know the authors better.
Today, get to know more about Darla Dimmelle and Sugar.
In the age-old first date manner, tell me a bit about yourself.
My name is Darla, and I'm a university student in Utah. I work as a writing tutor and a transcriptionist. I'm an Aquarius. I love film and professional wrestling. I'm very sensually-motivated. I drink a lot of red wine (which I hear is good for the heart!), and I like taking long baths, having my nails painted, and snuggling with my dogs, Loki and Hetty.
Who has influenced you most as a writer?
What a difficult question! Outside of my personal life and the many influences there, I'd say authors like Stephen King and Sarah Waters. I read them both during my formative years, instilling in me a love of horror and erotic drama. I also have been greatly influenced by film directors like John Waters, John Carpenter, and Park Chan-wook in terms of their storytelling, graphic imagery, and use of character.
What are your favourite books and why?
My favourite book of all time is Hogg by Samuel Delany. It was one of the first really nasty books I'd ever read, and the characters Cocksucker and Hogg are so vile I can't help but adoring them! Also, there's a scene where a character gives himself a Prince Albert with a rusty nail he found in a kitchen drawer, so what's not to love? I also love E.M. Forster's Maurice. It's my rainy day comfort book. I've really been enjoying Koogi's Killing Stalking comic. I also have a very, very soft spot for Sarah Water's Tipping the Velvet and Stephen King's The Girl Who Loved Tom Gordon.
When did you realise you wanted to be a writer?
I have no idea! I feel like I've been writing since I was a little kid! I wrote all sorts of stories and comics in elementary school. I nearly wrote 200 pages of some terrible novel about superheroes in sixth grade. I finished my first novel a bit before high school and have since then hidden it away because it's so embarrassing! It was about vampires, so you can imagine. Still, I think it was a definite accomplishment for a teenager and a good indication that writing has always been a passion of mine!
Do you have any interesting writing quirks?
I usually write everything by hand and then type it up later. Also, I like listening to music while typing, but anything with lyrics can distract me. So, I mostly listen to the movie soundtracks. My favourites are It Follows, Martyrs, and Drive. Also any score done by Goblin gets me in the creative mood (although Suspiria is a go-to of mine)!
How did you become interested in writing this particular genre?
This is such a complicated question for me! I was a nervous child, but I'm not really sure anyone wants to hear about my anxious childhood which was truly uneventful outside of my neuroses. Ultimately, I think my fear response and sexual wiring got crossed in my obsessive repression of the bogeyman, and now I find writing these types of stories very comforting!
What was the inspiration behind your MASHED story?
I had a bad date.
With over two hundred submissions, what was your reaction upon finding out your story had made the cut?
I was so excited! I wrote "Sugar" for a class and was told by a few of my peers (or maybe more than a few) that they were disgusted and uncomfortable with my work. So, having confirmation that there was, in fact, an audience for my work felt so validating. I am so grateful to have had my story selected!
Each story is a mix of horror, humour, food, and sex; what kind of reaction should a reader expect to have upon finishing your story – will they be more turned on or terrified?
Probably more terrified. However, I wanted this story to leave the reader (if they're the type to identify with Honey and Kiddo) feeling some sort of emotional release. I'd like to believe that some might leave the story feeling refreshed and relaxed!
Do you have another writing project in mind or in the making? If so, can you tell us a little about it?
I kept making a bad joke during the 2016 election in the US that if Trump got elected I would rewrite and update the Marquis de Sade's 120 Days of Sodom. Currently, I'm trying to figure out how I might make good on this promise and if I can do so without upsetting my own sensibilities. I'm also cleaning up a chapbook to publish and working on some other short stories and novels.
Excluding your own, which of the MASHED stories is your favourite?
This is so, so hard! MASHED is full of great stories! I'm gonna cheat a little and go with a tie, putting "The Care and Feeding of your Personal Demon" by Maxine Kollar and "The Stray" by Calypso Kane as my favourites! Kollar's story is so clever and unexpected, and the protagonist's personality is so vivid and twisted. Similarly, Kane's work is so charming! The pacing and the payoff is fantastic. And, honestly, I'm a softie at heart. I love to see a stray get a good home!
a Rafflecopter giveaway